JobScience is a web-based recruiting and applicant tracking system for professional and in-house recruiters. It allows users to create job requisitions, post them to career pages and social media such as Facebook and LinkedIn. It uses the SalesForce platform for a CRM.
Special Offer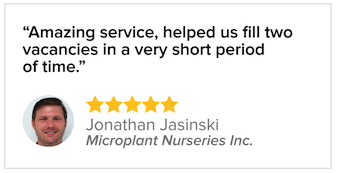 Post Jobs for FREE
Completely free trial, no card required.
Reach over 150 million candidates.
JobScience Pricing:
JobScience does not publicly disclose pricing. To learn what it costs, you'll need to get in contact with a sales representative.
JobScience Key Information Table:
| | |
| --- | --- |
| Founders | Mimi Gannon, Ted Elliott, Terry Elliott |
| Founded | 1999 |
| Headquarters | San Francisco, California |
| CEO | Ted Elliot |
| Number of Employees | 51+ |
| Phone Number | (866) 284-1892 |
| Address | 160 Spear Street, Suite 1220, San Francisco, CA 94105 |
| Website | jobscience.com |
Reviews of JobScience:
| Company Name | Rating | Review |
| --- | --- | --- |
| Capstone Consulting | 2 | JobScience is relatively simple to use and the resume search feature is improved with the new release. Cons: It's difficult to capture all of the information we need in the staffing industry. Not very user-friendly and their customer service is non-existent. |
| DSI | 2 | I used the product for over a year and a half before finally being fed up with the lack of communication and training. There are quite a number of better options out there. |
| eMerging, Inc. | 4 | The product is easy to use if it is set up correctly. We are not able to use it properly when it is not set up correctly though. Customer service if very lacking. We have recently added 2 licenses & they are not set up correctly. |
| TIPTOPTalent | 3 | The easiness of the service is what I like the most. It's a simple platform that allows us to manage our database with effectiveness. |
| RAEGAN HILL GROUP, LLC | 2 | I'm going on year 3 with JobScience. It has never been a positive experience. In the beginning, I had an Account Manager. They really sold me on their Customer Support. Then they did away with AM's. |
| Celarity | 5 | This is a great user-friendly product that I use on a daily basis at work! |
| TexasExec | 5 | We call it Cadillac in our office. It is a solid database. We are an executive search firm. |
| Charlotte-Mecklenburg Schools | 2 | My biggest complaint with JS is that I just find it is not very intuitive for the user. Many times I call support I feel like they too have to take a minute to think about where something is housed. |
| Neff Rental | 5 | Software is very customizable, is user friendly, and is excellent with workflow and notifications. It is a very powerful software and can do pretty much anything you need it to do. It is built on the Salesforce platform so if you are also familiar with Salesforce it will be easier to learn. |
| Sage Recruiting | 2 | Unfortunately we are switching from JobScience and do not think that it's a good product. There are some key issues with the search, including the inability to see notes without several clicks, extremely poor (broken) speed levels (sometimes it takes up to a min for a candidate record to load!), reporting has been broken for weeks, it's truly impossible to use effectively and really gives a lot of downtime for our business. |
JobScience FAQs:
Where can I find the JobScience login?
You can go to the JobScience home page, scroll to the bottom and a little left of center you can click on "login." You can also go straight to login.salesforce.com.
What is JobScience Resume Power?
This is a tool that JobScience offers that allows users to upload resumes in a bulk files, have them automatically separated into candidates, and matched to jobs. It also makes them searchable.
Is there a JobScience Salesforce integration?
Yes, JobScience is built on the Salesforce Force.com platform and is a great Salesforce recruiting software option.
How much does JobScience cost for a single user?
JobScience does not disclose prices, so there's no way to know without getting in contact with them. You can get in contact for a JobScience demo and ask about pricing.