Hiring tools are typically software services made to aid in hiring employees, either with recruiting, sourcing, receiving applications, tracking applicants, interviewing, making offers, or onboarding.
Special Offer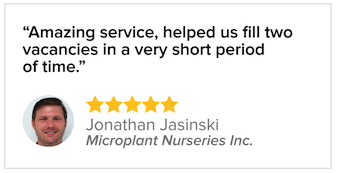 Post Jobs for FREE
Completely free trial, no credit card required.
Reach over 150 million candidates.
Best Hiring Tools:
| Software Name | Minimum Cost | Key Feature |
| --- | --- | --- |
| LinkedIn | $49.00 | Sourcing |
| Betterteam | $4.50 | Job Posting |
| Zoho Recruit | $0.00 | Applicant Tracking |
| Ennect Event | $400.00 | Career Fairs |
| OneStop by Symplicity | $55.00 | College Recruiting |
| Jobvite | $500.00 | Employee Referrals |
| InterviewCoordinator | $75.00 | Interview Management |
| Spark Hire | $99.00 | Video Interviews |
| TazWorks | $500.00 | Employee Screening Software |
| Lytmus | $0.00 | Pre-Employment Testing |
| Goodhire | $29.99 | Background Checks |
| Newton | $399.00 | Offer Mangement |
| LinkedIn | $0.00 | Alumni Management |
Candidate sourcing tools help you find potential employees and recruit them. They are especially useful for finding passive candidates, people who aren't looking for a new job but might be open to it if contacted.
Some of the most popular sourcing tools are LinkedIn and Entelo.
Job Posting Software:
Job posting software helps you post jobs online to multiple job boards, include them in Google for Jobs, and post them to a career page on your company site.
Popular job posting software includes Betterteam, Ziprecruiter, and Indeed.
Applicant tracking systems help employers organize their hiring process by handling applicant intake and making it simple to see where someone is in the process, what needs to happen next, and what the results of the process so far have been.
Popular applicant tracking systems include Zoho Recruit, iApplicants, and BambooHR.
Career Fair Software:
Career fair software helps companies manage a career fair, and especially to manage the leads they get from fairs. Using this software will save time and help you do a more thorough job contacting and building relationships with leads from fairs.
Popular career fair software includes:
Scanfactor.
Eventbrite.
Ennect Event.
eCareerFairs.
Communiqué.
ShoWorks.
Job Fair Central.
Yello.
College Recruiting Tools:
College recruiting tools help employers and recruiters connect with students, build relationships with them, and funnel them into the talent pool. It's essentially sourcing software focused on students.
Some popular college recruiting tools include Handshake, Gradleaders, and OneStop by Simplicity.
Employee Referral Software:
Employee referral software helps keep the talent pool filled by making it easy for employees to refer candidates, keeping track of who made referrals and any bonuses due, and encouraging employees to refer more candidates.
Popular referral software includes Jobvite, Zao, and Rolepoint. Many employee referral software tools include social recruiting features as well.
Interview Management Software:
Interview management software helps companies schedule interviews, plan them so that they're standardized, store notes and comment on them, score candidates, and develop follow up questions.
Popular interview management software includes iSmartRecruit, InterviewCoordinator, and IMS.
Video interview software makes it easier for companies to do live interviews online, helping them avoid expensive commutes, and giving them an inexpensive way to interview candidates that live outside their immediate area.
Popular video interview software includes Montage, HireVue and Spark Hire.
Employee Screening and Background Check Software:
Employee screening and background check software saves time in the hiring process by making it faster and easier to verify employee identity, qualifications, criminal history, credit history, and credentials.
Popular employee screening software includes HireSelect, Newton, and TazWorks.
Pre-Employment Testing Software:
Pre-employment testing software makes it easy to administer various tests to employees that help companies make better hiring decisions. These can include aptitude, personality, and job knowledge tests.
Popular pre-employment testing software includes Lytmus and Prevue.
Offer Management and eSigning:
Job offer management tools allow you to standardize and send your job offers out electronically via email and then receive signed offers electronically using eSigning features.
Popular software for offer management includes Newton and Lever.
Company Alumni Management Software:
Company alumni management software makes it easy to stay in touch with former employers and continue building relationships so that even after they leave the company, they remain in the talent pool.
Popular alumni management software:
Insala.
IntraWorlds.
LinkedIn.
Glassdoor.
Conenza.