Greenhouse, also known as Greenhouse Software, is an American technology company that creates recruiting software, including an applicant tracking system, that allows employers to build hiring processes, track hiring, and post jobs online.
Special Offer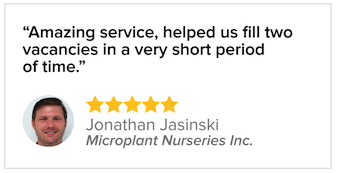 Post Jobs for FREE
Completely free trial, no credit card required.
Reach over 150 million candidates.
Greenhouse Key Information Table:
| | |
| --- | --- |
| Founders | Daniel Chait, Jon Stross |
| Founded | 2012 |
| Headquarters | New York City, NY |
| CEO | Daniel Chait |
| Number of Employees | 101+ |
| Phone Number | (917) 780-4130 |
| Address | 110 5th Ave. 3rd Floor New York, NY 10011 |
| Website | greenhouse.io |
Reviews of Greenhouse:
| Company Name | Rating | Review |
| --- | --- | --- |
| ASU | 4 | It provides you with great functionality and features. Highly recommended for both small and big companies. Go for it. |
| Netskope | 5 | Has the architecture I need to roll out a structured and scalable worldwide hire & selection process. Easy to set up backend APIs to connect to the other applications I use today. Priced competitively. Great post-sales customer experience team. Great online training support for new users. |
| Sauce Labs | 4 | The scheduling feature is really great in Greenhouse. It's eliminated a lot of the back-end work that is required to schedule an interview, and tells the scheduler where each candidate is at in the process. |
| RealSelf | 3 | I like the customizable features that Greenhouse offers. It allows you to adjust various items of your workflow to meet your company's needs. There is so much Greenhouse can do in the way of making your workflow process smooth for hiring efficiency. |
| Carvana | 4 | Having access to all candidate history, contact info and feedback is a lifesaver when it comes to recruiting and compliance. Greenhouse also helps us establish and follow a clear recruiting process. |
| Yerra Solutions | 5 | The implementation turned out to be easy and straight forward, with great customer support along the way... Creating new job openings is simple, with many items easy to customize to our specific process. |
| Joyride Coffee Distributors | 4 | Pros: How warm and user friendly it is - helps with manager utilization! -Interview kits are manager friendly - easy to access and have all the info needed. |
| Brookfield Residential | 4 | Greenhouse is both intuitive and adaptable. It promotes best practices (e.g. structured interview process and scorecard model) and facilitates easy collaboration with hiring managers (e.g. @ mention feature). |
| MailChimp | 4 | I like that the software is easy to use (both for the Recruiting team and for the Hiring Managers/Interviewers) and it is very intuitive. It takes minimal training for employees to learn how to navigate and manage the system. |
| ALTA IT Services | 4 | Really like the automated process with this software. Being able to rate applicants and each steps of the hiring process is a great feature. |
Greenhouse Pricing:
A survey of Greenhouse customers by Siftery placed the prices at just above $5,000 per year for 1-10 employees to just above $25,000 per year for 1,001-2,500 employees. Greenhouse does not publish pricing information. Pricing is based on the number of employees at the company using its software.
Greenhouse FAQs:
Is Greenhouse recruiting software right for a small business?
It may be. If you can afford to spend money on an ATS, and it has the features you need, you'll want to look into it. Other ATS software providers offer free levels of service, so if you hire infrequently or are unable to budget for software, the Greenhouse ATS may not be a good fit.
Are there other Greenhouse HR features I should be looking into, besides their ATS?
Besides the Greenhouse applicant tracking system, you may want to check out their features that allow you to post jobs, track where applicants come from, the Greenhouse interview scheduler, Greenhouse onboarding and their social posting feature.
Where is the Greenhouse login?
When you go to the Greenhouse website look in the top right corner for the "Log In" button, or go directly to app.greenhouse.io/users/sign_in.
What sites do Greenhouse job board postings go to?
Greenhouse job board postings can be sent to Indeed and Glassdoor free. You can publish to paid sites like Dribbble, Coroflot, and Github as well.
Will Greenhouse recruiting software integrate with other HR products?
Yes the Greenhouse app is built to integrate with many other applications, including Zenefits, Bamboo HR, HackerRank, and others. There's also a Greenhouse API that you can connect with.
Where can I find a Greenhouse demo?
If you want to demo their ATS, Greenhouse can arrange that for you if you go to go.greenhouse.io/demo-request and fill out the form.
Where is the Greenhouse company located?
There is a Greenhouse NYC and Greenhouse San Francisco office, with the main offices being in New York City.
Where can I learn more about Greenhouse Software Inc?
You can learn more about the company by checking out the Greenhouse blog.
Is there another ATS Greenhouse is often compared to that I should consider?
There are many other applicant tracking systems available, but it seems like Lever is the one that most often gets compared to Greenhouse in terms of similarities and purpose.