Frozen Lemons offers a name-generating service that clients can use to obtain names for their businesses and products. The team comprises experts who produce results within 24 to 48 hours, depending on the plan.
Review:
Frozen Lemons is different from most business name generators in that the company comprises a team of naming experts who produce most ideas. However, this is reflected in the price: depending on the plan, each name essentially costs between $11.00 and $17.00. Businesses could try a free business name generator before enlisting the services of Frozen Lemons.
Highlights:
Generates names for companies and products.
Names are created by people, rather than software, allowing them to more accurately represent companies/products.
Each name idea is accompanied by an explanation, which affords business/product owners insight into the creative process.
All packages include a set number of name revisions (which varies depending on the plan).
Shortcomings:
Packages cost between $69.00 and $219.00, while many other name generators are free to use.
Clients can only purchase a maximum of 20 name ideas at a time (excluding revisions).
Names are created within 24 to 48 hours, depending on the package, whereas most name generator services provide instant results.
Reputation:
To date, it seems that Frozen Lemons has received only a few customer reviews. Of those we found online, one was positive. The other was negative, suggesting that the names were not well thought out and that there was an excessive reliance on portmanteaus.
Worth noting at this point is that the company is based in the Netherlands. As such, we may have missed reviews that were written in Dutch or another language other than English. As it stands, it seems premature to form a concrete stance based on the available information.
Pricing:
| Plan | One-Off Price |
| --- | --- |
| Bronze | $69.00 |
| Silver | $120.00 |
| Gold | $219.00 |
Comparisons to Leading Products:
We compared Frozen Lemons to top-ranking solutions NameSnack and Business Name Generator to identify the most suitable options for businesses.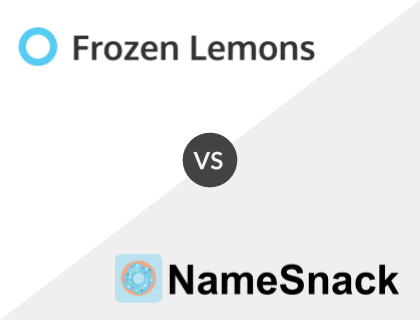 Frozen Lemons vs. NameSnack:
Frozen Lemons offers suggestions that are generated by people, while NameSnack is AI-powered. However, Frozen Lemons' plans cost up to $219.00, while NameSnack is completely free. NameSnack also offers hundreds of ideas and indicates domain name availability, while Frozen Lemons offers a maximum of 20 ideas and doesn't offer a domain search tool.
Frozen Lemons vs. NameSnack Comparison:
| Offer | Frozen Lemons | NameSnack |
| --- | --- | --- |
| Price Range | $69.00–$219.00 | Free |
| Turnaround Time | 24–48 hours | Near-instant |
| Mode of Generation | Naming experts (human) | AI |
| Shows Available Domains | x | ✓ |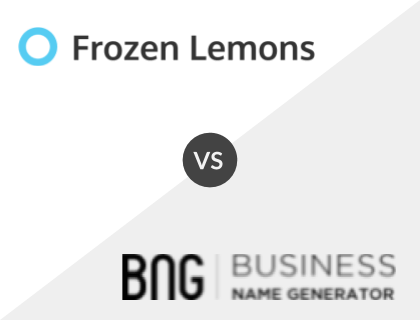 Frozen Lemons vs. Business Name Generator:
Frozen Lemons provides name ideas for businesses and products for a fee, while Business Name Generator (BNG) offers distinct tools that can be used to obtain complimentary name suggestions for businesses and products, as well as podcasts, blogs, usernames, and more. BNG also provides a list of available domains, which Frozen Lemons does not.
Frozen Lemons vs. Business Name Generator:
| Offer | Frozen Lemons | Business Name Generator |
| --- | --- | --- |
| Price Range | $69.00–$219.00 | Free |
| Turnaround Time | 24–48 hours | Near-instant |
| Mode of Generation | Naming experts (human) | AI |
| Shows Available Domains | x | ✓ |
Frozen Lemons Packages:
Frozen Lemons' Bronze plan is suitable for businesses that only require a few name suggestions, or in instances where businesses are unwilling or unable to commit to the more premium tiers. At $69.00, the Bronze plan includes four name ideas as well as two free name revisions. Results are delivered within 48 hours.
The Silver plan, in turn, offers eight name suggestions and four complimentary name revisions. The package costs $120.00 and includes a turnaround time of 24 hours.
Finally, businesses that require a sizeable pool of name suggestions should consider the Gold plan, which is priced at $219.00. At this level, clients receive twenty name ideas as well as eight free name revisions. As with the Silver plan, results are delivered within 24 hours.
Key Information:
| | |
| --- | --- |
| Address | Recht Boomssloot 34, 1011 EB Amsterdam, The Netherlands |
| Email | info@frozenlemons.com |
| Website | |
Reviews:
| | |
| --- | --- |
| | Just got my brand name suggestions from @FrozenLemons! Loved them, job well done. Thanks guys! |
| | Don't use Frozen Lemons naming service. I left a brief description of my company and left it in their hands. 48 hours later they gave me this: (I have a meal replacement business btw) 1. ActivChoice – A short catchy combination of the words Active and Choice. Choosing the meal replacements are a choice towards an active life! Also, it means that the meals help athletes spend less time in the kitchen and more time doing what they love (hence giving them the choice to be more active). 2. Perfits A simple name with the potential to become a great memorable and popular brand. The name is a combination of Perfect + Fit. An ideal name for the brand. The meals are perfect for fitness conscious consumers. 3. Nutriangle – Nutrition + Angle – just a very catchy name that puts the focus on the brand being healthy. Putting a healthy perspective and option in front of you. 4. Activitals – The words Active + Vital sit together perfectly in this name. It means that these meals are vital to an active lifestyle.I was seriously disappointed when I read these. It looks like someone just thought of a few "health" words and slapped them together. Perfits? Really? The inclusion of Nutriangle in here is also unfortunate since they didn't bother to think about how it would be pronounced Nu-Triangle instead of Nutri-Angle. When asked about the level of detail that went into the names, Ava responded by saying that I should have been more detailed if I wanted less generic names. She offered to revise two of the sent names but since I'm not a big fan of portmanteaus I guess I'm out of luck.Don't waste your time with Frozen Lemons |
FAQs:
Is there a free trial of Frozen Lemons?
Frozen Lemons makes no mention of a free trial on their website. However, interested users can view a sample of their work by clicking "View a naming sample" online.
What are some alternatives to Frozen Lemons?