A Business Continuity Plan (BCP) is a strategic plan that outlines businesses' prevention and recovery from major disruptions to the business. Typically, businesses establish a continuity plan for natural disasters, such as floods, arson, and terrorism.
However, the COVID-19 (Coronavirus) outbreak presents businesses with many unforeseen challenges due to its rapid spreading and global reach. Therefore, more and more businesses are looking to improve their continuity plan to better prepare for the impact of COVID-19.
Every business should already have a business continuity plan in place. This plan should be a detailed plan-of-action that defines any and all risks that can affect the businesses' operations, customers, and employees. To better prepare for the impact of COVID-19, we highlighted steps you can take to improve your existing business continuity plan.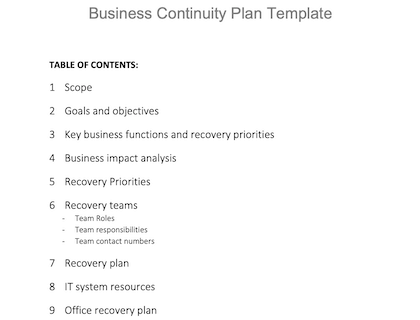 COVID-19 (Coronavirus) Business Continuity Plan Template:
Use our general business continuity plan in Word format to help stay on task.
How to Prepare for COVID-19:
1. Prioritize your employees' safety.
The wellbeing and health of your employees should be your top priority. Start by addressing the needs of employees who display COVID-19 symptoms. To keep your entire team safe, send any employees with flu-like symptoms home. In this scenario, ensure you maintain transparent communication with all your employees, as this will go a long way in reassuring them.
Look into remote working solutions. To do this, you'll need to determine if you have the tools, technology, and capacity to support a small or large size remote team. In addition, you might need to consider introducing or expanding flexible work arrangments. Depending on your type of business and industry, businesses may also need to reorganize teams and reallocate resources.
One of the adjustments businesses have to make is to implement infection protection measures. You need to create a strategy that enables employees to continue to work without endangering them. You can do this by establishing employee wellbeing programs and policies that support a safe working environment.
2. Identify the risks and impact of COVID-19.
As a business, it's vital that you stay updated on the latest news and regulations put into place by government officials. This also provides you with more information to help identify the risks and overall impact COVID-19 will have on your business.
The following are possible impacts that businesses should consider:
Employees may be unable to travel to work due to travel restrictions put into place. For employees that make use of public transport, the risk of infection is much higher due to close contact with other individuals. Additionally, since schools are officially closed, many parents may be unable to attend work due to childcare issues.

Employees may be prohibited from attending work. In the case of national shutdowns, employees will be unable to enter workspaces.

A visible slowdown in sales. During a national shutdown, customers will be unable to purchase services and products, which will lead to a rapid decrease in sales.

Additional costs for hiring temporary employees. Depending on the type of business or industry you're based in, you may need to continue work during a national shutdown. This will generally require essential employees only. However, if essential employees are diagnosed with COVID-19, you will need to consider hiring temporary employees. This could affect your budget and resources.

Diminished workforce performance. If your employees are forced to work remotely but do not have access to the same quality of resources and technology, you could see a decrease in productivity.

Additional cost of establishing a remote workforce. As mentioned above, you may need to put resources in place to help employees maintain the same level of functionality. However, this will cost your business as employees might require special equipment, communication devices, and software.

Your business might be forced to close down. If your business does not provide essential services and cannot afford a remote workforce, you will have to close down. This could result in unpaid time off, especially for businesses like restaurants, salons, and bars.
Your continuity plan should list the various risks of COVID-19, as well as the plan of action your business has in place to mitigate these risks. It's best to be transparent when identifying the risks and impact of COVID-19. If your business is unable to operate during this time, state that in your plan and list the various reasons for this decision.
3. Establish open and transparent communication.
Employees will look towards their community leaders, government officials, and employers for guidance during these uncertain times. Therefore, it's important that you encourage open dialogue with your employees and be as transparent as possible.
Leave as little to interpretation as possible. Employees will expect clear and straightforward steps that they can follow. When setting up your continuity plan, consider the diverse perspectives of your employees and which communication platforms will best suit their needs. This will help you determine how detailed your plan should be.
Establish a communications plan that includes providing employees, senior management, customers, suppliers, and government regulators with regular updates. Make sure your updates stem from verifiable news sources, such as the Centers for Disease Control and Prevention (CDC) and the World Health Organization (WHO).
4. Reshape your business plans for continuity purposes.
As the impact and spread of COVID-19 continues to reshape the way businesses operate, it's critical that you review existing business plans, including your current Business Continuity Plan and Business Disaster Recovery Plan.
To help address the COVID-19 challenges, businesses should:
Monitor direct cost escalations. This should also include the COVID-19 impact on overall product margins, which may require businesses to renegotiate terms and conditions where necessary. Businesses may be vulnerable to financial stress and long-term implications if they are slow to react.

Consider alternative supply chain options. If your business needs to source products or materials but the supplier is based in areas significantly affected by COVID-19, consider looking for alternative options. Remember to maintain active communication with all suppliers.

Identify how the COVID-19 pandemic impacts budgets and business plans. Start by conducting assessments with multiple scenarios to better understand the potential impact on your business's overall performance. These assessments should detail how long the impact is expected to last, and how it affects suppliers and previous budget predictions. If your current business plans are no longer relevant due to the unexpected impact of COVID-19, you may need to revise your business's plans.

Look into alternative funding. Many businesses will face the issue of short-term capital demands. Based on your findings from the business plans assessment, you might need to look at near-term capital raising, short-term liquidity, debt refinancing, or additional credit support from banks, partners, or investors.
5. Prioritize key business functions and processes.
Start by identifying the key products and services your business provides, as well as the customers they're delivered to. This will help determine which high-risk areas are vulnerable, outline dependencies, and estimate the potential financial losses your business may face. Once this is complete, you can better prioritize which business functions require additional attention.
6. Make use of support policies and funding.
Across the U.S., local governments and organizations have implemented several financial, social insurance, and tax-related policies to help support small businesses during this time. It is important to note that government support may differ based on your location and industry.
Monitor nation-wide government and business opportunities that could support your business during this period. For example, the Small Business Administration (SBA) is providing low-interest working capital loans to small businesses and non-profit organizations. The loans can go up to $2 million, with an interest rate of 3.75% for small businesses and 2.75% for non-profit organizations.
7. Review and revise your business strategy.
Once the COVID-19 pandemic is controlled, you should consider reshaping your entire business strategy. This should include an assessment of all plans, including marketing, communications, and BCP. Your current revision will be done quickly and somewhat under duress as the situation continues to change dramatically. However, the COVID-19 pandemic should also serve as a lesson.
If your assessment reveals any deficiencies, you will need to identify:
Root causes.
Timeliness of action.
Lack of infrastructure.
Labor shortages.
External environment issues.
Once this is complete, consider putting new internal guidelines, plans, and policies in place based on the lessons learned. This will help you better respond to future crises and pandemics.
FAQs:
What is included in a business continuity plan?
Policies that address various types of natural disasters.
Processes that must be followed during this time.
Guidelines that detail the business processes, assets, human resources, business partners, and more.
An outline of the risks the business faces and how it will impact operations.
Safeguards and processes to help mitigate the risks.