Compas Technology, or Compas, is a recruiting software company. Its cloud-based software includes an applicant tracking system, a CRM, reporting tools, and video interviewing capabilities.
Special Offer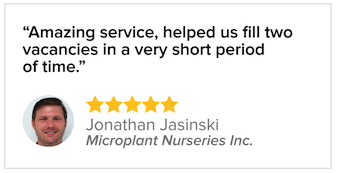 Post Jobs for FREE
Completely free trial, no card required.
Reach over 150 million candidates.
Compas Key Information Table:
| | |
| --- | --- |
| Founders | Brian Vesce, Randy Atkins, Tom Semereaux |
| Founded | 2008 |
| Headquarters | San Francisco, CA |
| CEO | Brian Vesce |
| Number of Employees | 33 |
| Phone Number | (888) 552-6672 |
| Address | 221 Pine St, San Francisco, CA 94104 |
| Website | web.mycompas.com |
Compas Reviews:
| Company Name | Rating | Review |
| --- | --- | --- |
| Just Energy Corp. | 2 | It's very fast to find any applicant in the system. It's also easy to edit any table for an admin, no need any support by the vendor. Another thing that I like is the customer support, all the requests are being taken care of fast enough. |
| Truex Metier | 5 | Compas is much more intuitive and easier to use compared to other CRM systems e.g., Salesforce. The UI is straightforward, the pages load quickly, and the steps make sense. Overall, in terms of inputting information, Compas hits the mark in almost all aspects. |
| Augmentation, Inc. | 4 | This product is easy to use and helps us to keep all of our candidates in one location. We have the ability to take notes on them so that we can refer back in the future if necessary. |
| West500 | 4 | MyCompas is the jack of all trades, master of none ATS. I'd like to highlight the elegant user interface, and their chrome extensions that easily let you input candidates from LinkedIn directly into the database with a few clicks. It does have a searchable database, but with the caveat of searching for specific criteria can be challenging at times. |
| Evidera | 4 | I've worked with COMPAS for the past two-years and their customer service has been exceptional. They have assisted us with every question and concern that has come up during recruitment. |
| 5280 Staffing | 5 | COMPAS' software had become such a part of our day to day processes that we sometimes forget it's a separate piece of software. We use COMPAS everyday, for every new applicant, and it makes our operations seamless. |
| BetterHire | 4 | I am new to recruiting and had to learn the system from scratch. Overall the system is easy to use, but I am sure there are some additional features and functionality that would help me become more effective and efficient. |
| Intellio | 5 | The system is very straight forward. However it has some uniques features that make it great. I will say one of the best features is the email's sync and the search. |
| Entelligence LLC | 5 | The front end process was very detailed in order to set us up for success. And generally, where other companies would stop there, the back end support has been wonderful as well. You aren't treated like a means to meet a revenue goal, rather you are treated as a partner whereas both parties feel successful throughout implementation. |
| Access Technology Staffing, Inc. | 5 | Easy user friendly customization, scalable, front and back office product with a variety of integration options. |
Compas Pricing:
Compas does not publish their pricing. In order to find out what their services will cost, you'll need to get in touch with them.
Compas FAQs:
What tools and features does Compas software for HRM and staffing?
An applicant tracking system.
A CRM.
Video interview platform.
Reporting tools.
Mobile friendly software.
Job management.
Task management.
Job posting.
Talent search.
Is the Compas ATS built for smaller companies?
Possibly, if you're a smaller staffing agency. Their site offers a corporate version of the Compas recruiting software, and a version for staffing agencies.
Are there any Compas database tools to help me search applicants?
Yes, Compas has Talent Search, a database search tool to make candidate info stored in databases more searchable.