Fill your vacant positions with help from our list of the best 10 job portals in California. California has a combination of local sites that target the California job market and world-renowned job sites that do well in this market.
Special Offer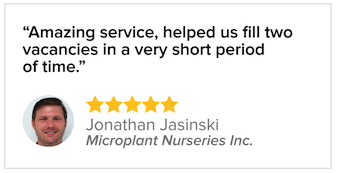 Post Jobs for FREE
Completely free trial, no card required.
Reach over 150 million candidates.
Top 10 California Job Posting Sites:
| Our Rank | Job Board Name | Posting Options |
| --- | --- | --- |
| 1. | Indeed | Free and paid options. |
| 2. | Glassdoor | Free and paid options. |
| 3. | Google for Jobs | Free job postings. |
| 4. | CalJobs | Free job postings. |
| 5. | CaliforniaJobNetwork.com | Paid, starting at $295.00. |
| 6. | Los Angeles Job Board | Free job postings. |
| 7. | Craigslist | Paid, starting at $7.00. |
| 8. | SacJobs.com | Free and paid options. |
| 9. | Monster | Paid, starting at $375.00. |
| 10. | Careerbuilder | Paid, starting at $199.00. |
California Job Posting FAQs:
Where can I make free job postings in Los Angeles?
For free job posting Los Angeles has a couple good local options, including Los Angeles Job Board and JobsLA. You can also use Indeed, Glassdoor, and Google for Jobs for free Los Angeles job postings.
What are the best sites for San Francisco job postings?
San Francisco doesn't have much in the way of local job sites. But, if you're posting tech jobs, definitely check out Angellist. Otherwise, you might try the local craigslist page, Indeed, Monster, and Glassdoor.
Where can I post a job in Orange County, California?
There are a couple local options, including OneOC and Orange County Craigslist. Beyond those, try sites like Indeed and Glassdoor. Also look for niche sites for the particular job you're hiring for. You'd be surprised by how many of these exist.
We're not getting many applicants. Any advice for better San Diego job postings?
In really competitive hiring markets, you'll always want to write your job postings almost as if the potential applicant was a customer. What makes this job at your company better than others? Why should they want to work for you? Be sure to put this in the job posting. You can read more advice in our job posting template article.