Pricing:
CrewScale charges per hour depending on the experience, expertise, and skill level of individual professionals, and pricing starts at US$30.00 per hour. There is no sign-up fee. All pricing and transactions are done in U.S. dollars.
Review:
CrewScale has a growing reputation for good service, a seamless process, and high-quality talent, and is a good option for businesses in Canada who are looking to hire remote tech professionals. Big brands including Uber, Samsung, Swiggy, and Grab have used the platform to connect with remote developers.
Features include pre-vetted talent, candidate matching, no sign-up fee, and a free trial period for each match. However, employers have to work with an assigned representative and can't access a database of resumes or profiles. You won't be able to pay in Canadian dollars.
Highlights:
The talent pool is pre-vetted and of high quality.
There is no termination fee.
CrewScale uses an automated engine to match roles with candidates.
Candidate profiles have assessment scores and pricing per hour.
The platform has a network of over 160,000 remote developers.
There is no sign-up fee or deposit.
A talent acquisition lead is assigned to you within 48-hours.
Employers can hire both short- and long-term.
Screening interviews are recorded and made available to employers.
Employers may schedule interviews with candidates.
Every match starts with a two-week free trial period.
There is email, phone, and live chat support.
Starting prices are more affordable than Toptal.
CrewScale has a wider reach than Canada's Association of IT Professionals and ITjobs.ca.
Shortcomings:
There is no resume or profile database for employers to access.
Employers have to work with the talent acquisition leads assigned to them.
There are no ways to promote employer branding.
All pricing information and transactions are done in U.S. dollars.
CIPS and ITjobs.ca are better for hiring locally because they are more established in the country.
Phone support is through a U.S. number and there is no mention of whether support times are restricted to the U.S. time zone.
The platform is only available in English.
Reputation:
We were unable to find any online reviews of CrewScale. The platform does have almost 3,500 followers on LinkedIn. In case studies on the website, clients have said that CrewScale's professional service, smart process, and high-quality talent are what make it stand out.
How to Post a Job on CrewScale: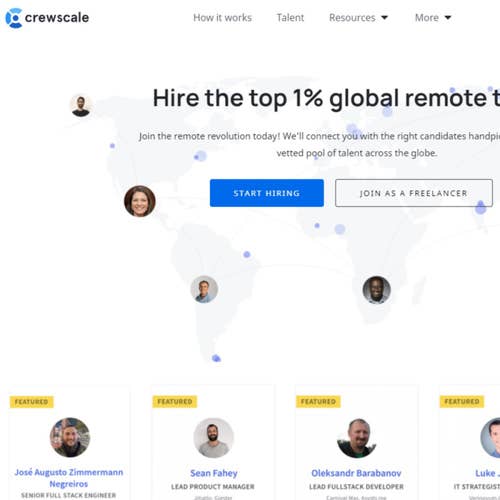 A step-by-step guide to posting a job on CrewScale.
1.
Post a job on CrewScale.
1.1
Click on "Start Hiring."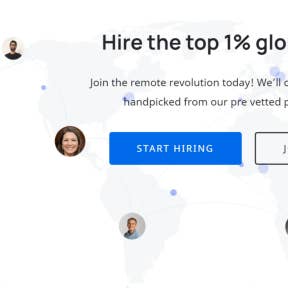 Go to the CrewScale home page and click on the blue button that says "Start Hiring."
1.2
Select which roles you need to fill.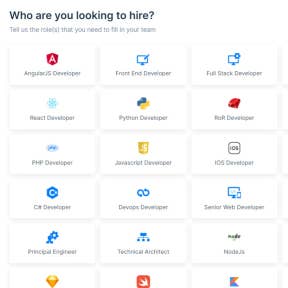 Click on the roles provided and then click "Next."
1.3
Fill in the online form.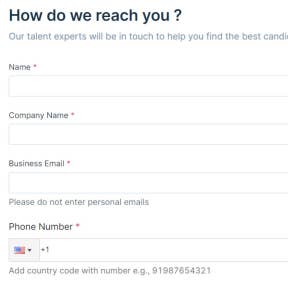 Give your name, business name, and contact details. Click "Next."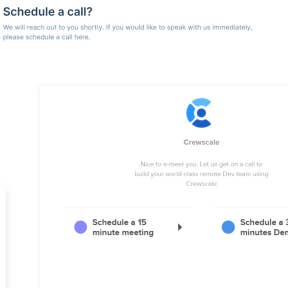 Choose between a 15-minute meeting and a 30-minute demo. Click "Submit."
CrewScale vs. ITjobs.ca:
ITjobs.ca is the niche tech job board of Jobs.ca, attracting over 20,000 job seekers in Canada every month. It is a better option for hiring locally. Job posts are expensive though, and there are few features. CrewScale is great for hiring remotely and has pre-vetted professionals.
CrewScale vs. CIPS:
Job postings on Canada's Association of IT Professionals are affordable and reach a large audience of qualified local tech job seekers. It is a good option for hiring locally. CrewScale is targeted at remote professionals and offers free sign-up, candidate matching, and talent acquisition support.
CrewScale vs. Toptal:
Toptal has been around much longer, has a broader network, and has a good reputation, but it requires a deposit and its hourly rates start at US$5000. CrewScale doesn't require a deposit at all and starts at US$30.00 per hour.
Key Information
| | |
| --- | --- |
| Legal Name | Goscale Group |
| Founder | |
| Address | 2035 Sunset Lake Rd, Suite B-2, Newark, DE 19702 USA |
| Number of Employees | 50 |
| Number of Customers | 120 |
| Email | |
| Telephone | |
| Website | |
News & Activity:
FAQs:
What is CrewScale?
CrewScale is a remote work recruitment platform that focuses on connecting a global talent pool of pre-vetted tech professionals with employers.
How much does it cost to post a job on CrewScale?
CrewScale is not a job board, so employers do not post jobs. Employers use the platform for free to be connected with the best-matched candidates in the network and then pay them an hourly fee.
What are some CrewScale alternatives?