Breezy HR is web-based recruiting and hiring software that provides an applicant tracking system, or ATS, resume parsing, sourcing tools, video interviews, and more.
Special Offer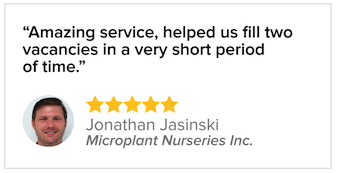 Post Jobs for FREE
Completely free trial, no card required.
Reach over 150 million candidates.
Breezy HR Pricing:
| Plan | Price | Users |
| --- | --- | --- |
| Bootstrap | $0 | 1 Active Position, 1 Active Candidate Pool |
| Startup | $149 | Unlimited Positions, Unlimited Candidate Pools |
| Business | $299 | Unlimited Positions, Unlimited Candidate Pools |
| Pro | Contact for pricing. | Unlimited Positions, Unlimited Candidate Pools |
Breezy HR Key Information Table:
| | |
| --- | --- |
| Founder | Darren Bounds |
| Founded | 2014 |
| Headquarters | Jacksonville, Florida |
| CEO | Darren Bounds |
| Number of Employees | 11+ |
| Phone Number | (904) 395-5504 |
| Address | 1450 Flagler Ave #24, Jacksonville, FL 32207 |
| Website | breezy.hr |
Reviews of Breezy HR:
| | | |
| --- | --- | --- |
| Company Name | Rating | Review |
| Acklen Avenue | 4 | What is helpful the most is the organization of the stages on each pipeline. Everything moves smoothly and trustful. |
| ALTA IT Services | 5 | Very good pricing and demos are great. They have a good customer services in case you run into any issues. |
| SDC | 5 | It's so easy to use and to manage large groups of people who are applying without getting overwhelmed managing all the pieces. I was able to manage it basically by myself by adding filters, moving people through the pipeline and administering a project-based interview exercise. |
| Quick Weight Loss Centers | 5 | The ability to move candidates from one stage to the other, the customization of the responses to the candidates based on the recruiting stages that they are in. It is easy to navigate and the ability to access from multiple devices. |
| Direct Pay Online | 5 | Easy to navigate through, keeps track of all the activity, easy to search through the candidates profiles. |
| Kaleo Supports | 5 | We serve 26 counties in NC - it is nice to be able to post positions specific to an area and manage the applicants in one place. It is also nice we can design our questions specific to our industry. |
| OpsGenie | 5 | Best price obviously $0 a month for starters. Perfect for small companies starting out and want to try an ATS for just 1 position. |
| Competera | 5 | Monthly subscription plan, referral and career portals, integration with BambooHR, automated emails and actions, friendly interface. |
| Kitsap Community Resources | 4 | Ability to collaborate with hiring team no matter where they are. Ability to send automatic emails and add personalized questionnaires for the various positions. |
| The Anti | 5 | Great UI and ability to qualify with auto email response if candidates did not meet the specifications. |
Breezy HR FAQs:
What is Breezy HR's price range?
Breezy HR pricing goes from $0.00 to $299.00 per month. Breezy HR also has a Pro plan that you'll need to get a price quote for.
Where do I find the Breezy login page?
You can go to the company home page and click "login" in the upper right corner, or go directly to breezy.hr/signin to access Breezy software.
How much does Breezy HR cost for a small business?
A small business that does infrequent hiring can probably get by with the free plan. If you're doing more regular hiring, you may want to consider the "Starter" plan at $49 per month.
Where can I find a Breezy HR coupon code?
We were able to track down one coupon code for Breezy HR - AngelCo. Use this coupon code to get 25% off your first 3 months of service.
Do you know how to check responses from questionnaire on Breezy HR?
If you're the hiring manager for the position, you can click on the candidate's profile, then click on the "Questionnaires" tab to review their responses.
What do I do if no email confirmation from Breezy HR came?
This is typically an issue for candidates. Some companies don't have an email confirmation setup. If you don't hear anything for a couple days you can always email the company to ask.
With Breezy HR can you preview jobs before going active?
If you want to preview posting Breezy HR allows it when you are creating or editing the position. Look for a link to the posting in the application tab. The position will need to be active but doesn't need to be posted anywhere. Be sure free job boards are disabled.
What are some Breezy HR free job boards my jobs post to?
JobRapido.
JobInventory.
JobIsJob.
Jobr.
Juju.
MyJobHelper.
Recruit.net.
SimplyHired.
What are some key differences between Breezy HR and Ziprecruiter?
Breezy HR has a free service level and prices start at $171 per month for paid. Ziprecruiter starts at $249 per month with a 4-day free trial.
Does Breezy HR help me promote jobs on social media?
There is a Breezy HR Facebook feature that allows you to create a Jobs tab on your company Facebook page to promote your open positions.
Do you know how to share questionnaire on Breezy HR?
If you want to share responses, export them from the reports section. If you want to share the questionnaire with candidates, go to their profile, and then the questionnaire tab. You can also send it to a group of candidates if you search the database or view a list view of the candidates for a position.
How do I make changes to my Breezy HR billing details?
To enter or update billing details, go to your Company Settings by clicking the gear icon in the top right and select the Billing section. From there you'll be able to edit or fill in your billing info.
How much is Breezy HR if I'm hiring for more than 10 positions at a time?
To get prices for 10 or more active jobs, you'll need to get in contact with Breezy HR to talk about their custom plans.