Pricing:
X-Team does not disclose its pricing options. You can contact them by completing their hiring form.
Review:
X-Team provides employers with access to a vast network of talented web programmers and developers located in over 55 countries. With X-Team, employers can enter their project details and X-Team will match the project's requirements with the most suitable developers.
Because X-Team does not reveal pricing on its website, it's impossible to compare prices with other local job boards. However, unlike competitors The Loop and SEEK, X-Team does not offer a free plan and the site has more control over the hiring process.
Highlights:
All employers gain access to highly trained, pre-vetted developers who work full-time and are scalable.
X-Team specializes in a wide range of development and programming languages.
The platform offers an easy application process.
X-Team provides access to a vast network of developers located in Australia and across the world.
The platform's services suit companies of all sizes.
Employers are guaranteed that their projects will be completed by qualified and experienced developers. The platform boasts an in-house radio show and a growing YouTube channel.
There are no upfront fees required.
Shortcomings:
X-Team's pricing is not transparent and is only provided at the contract stage.
X-Team does not offer a language translation feature.
Customer support is only available via email and there is no office located in Australia.
X-Team rarely contracts for part-time and short-term projects.
There is a minimum contract period of three months.
The developers' skills are limited to computer sciences.
Reputation:
We were unable to find reviews of X-Team. However, X-Team does have a lively social media presence on all of the popular platforms, with a combined total of over 83,000 followers.
How to Post a Project on X-Team: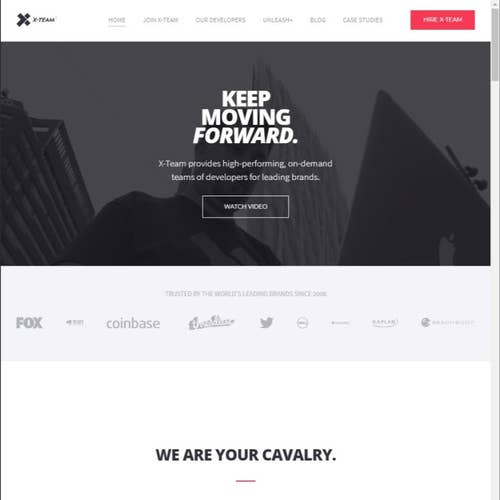 Seven easy steps for posting a project on X-Team.
1.
Posting a project on X-Team.
1.1
Navigate to the X-Team home page.

From the X-Team home page, click on "Hire X-Team" in the top-right corner of the page.
1.2
Fill in the online form.

Enter your name and company details, and click "Get Started" at the bottom of the page.
1.3
Select the type of job offering.

You can choose to hire an individual developer, build a team of developers, or contact X-Team for other options.
1.4
Select a time period.

Choose how long you'll need a developer for. The options range from under one month, between one and three months, and longer than three months. On the next page, specify how quickly you'd like to hire a developer.
1.5
Fill in the desired skills.

Specify the type of skills, software, and experience that you're looking for and click "Next" at the bottom of the page.

Ensure that your company details and project requirements are correct and then click "Send Request" at the bottom of the page.
1.7
Get connected with developers.

X-Team will get back to you with suitable candidates.
X-Team vs. SEEK:
SEEK is a popular job posting site in Australia, while X-Team focuses on connecting employers to freelance developers across the globe. In Australia, SEEK offers standard job posting features, transparent pricing options, and great exposure. X-Team caters to employers that require the expert knowledge of qualified developers.
X-Team vs. The Loop:
The Loop is similar to X-Team in that the site only targets a niche group. However, it's not as restricted as X-Team's candidate pool. Between the two competitors, X-Team is the best fit if you're looking to hire developers and need the reassurance that only trained professionals will work on your project.
X-Team vs. Toptal:
Toptal requires a US$500.00 deposit to get started, while X-Team only charges employers once the contract has been created. Between the two competitors, X-Team is the safest bet for hiring a remote team of developers. Toptal, on the other hand, caters to a wider range of designers, developers, and project managers.
Key Information
| | |
| --- | --- |
| Legal Name | X-Team International Pty Ltd. |
| Founder | |
| Founding Date | Jan 01, 2006 |
| Address | Austin, Texas |
| Email | |
| Website | |