Pricing:
While SmartCoverLetter advertises themselves as a free cover letter builder, users must pay a subscription if they would like to print, email, or download their document. Pricing starts at US$4.95 for a 7-day trial which automatically renews at a monthly rate of US$39.95 after the trial expires.
Review:
SmartCoverLetter is an online cover letter builder that helps job seekers create compelling and professional cover letters in 15 minutes. Features include three basic design templates, a few tips on what to include in a letter, and step-by-step prompts. Users can create cover letters for free but must pay to download or export them.
There is no reason why job seekers in Australia should avoid using SmartCoverLetter to generate cover letters for resumes. However, be thoughtful when using templates, as not all of them follow the accepted form and tone employers in Australia expect of cover letters.
Pros:
The generator is fast and easy to use.
It includes letter writing tips.
Cover letters can be downloaded as PDFs or MS Word documents.
Users are able to preview and change their designs before printing.
It offers more download options than Zety.
Cons:
You must pay to print, download, or email.
There are no cover letter examples.
It has only three designs to choose from.
There is no resume builder.
Zety offers more customization.
LiveCareer is more affordable.
Reputation:
Reviews for SmartCoverLetter are generally favorable with the site achieving a 4.5 star rating on Sitejabber. Positive reviews have included comments on the site's ease of use, speed, and overall quality of the service. Negative reviews include comments about how the service is advertised as free but requires a subscription.
At-a-Glance:
| Feature | SmartCoverLetter |
| --- | --- |
| Starting Price | $4.95 (7-day trial). |
| Build a Cover Letter in Under 5 Minutes | ✔ |
| Resume Builder | x |
| View and Change Designs Before Printing | ✔ |
| Letter Writing Tips | ✔ |
| Print, Email, or Download Your Document | ✔ |
| Download Format | PDF, MS Word. |
How to Create a SmartCoverLetter Cover Letter: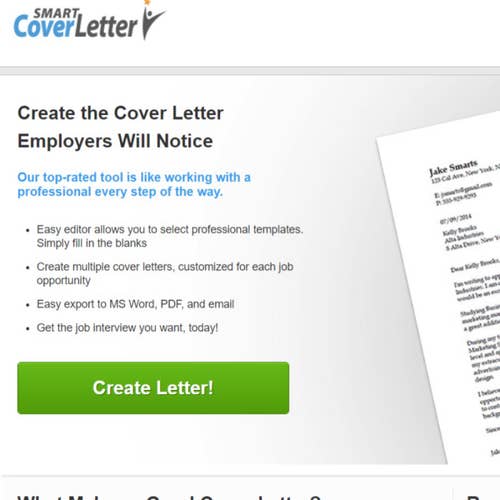 A step-by-step guide to creating a cover letter using SmartCoverLetter.
1.
Creating a SmartCoverLetter cover letter.
1.1
Go to SmartCoverLetter.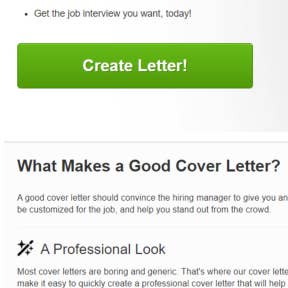 Visit the SmartCoverLetter home page and click on "Create Letter!"
1.2
Submit your contact information.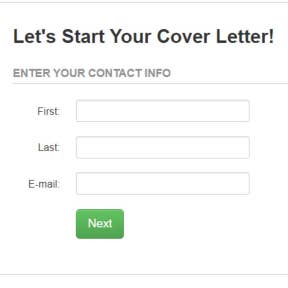 When you click on "Create Letter!" an online form opens. Fill in your first and last names, and your email address. Click "Next."
Follow the tips provided to the right of the online form, and consider watching the cover letter video tutorial to get the most out of the cover letter generator.
Provide the additional contact information required, including phone number and physical address.
Click on "Save & Continue."
1.3
Write the greeting for your cover letter.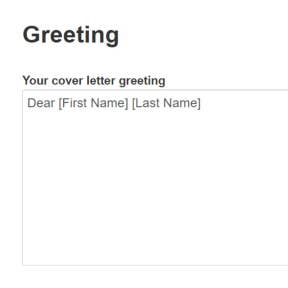 Fill in the first and last names of your letter's intended recipient. Use the brackets provided. Click on "Save & Continue" when you're ready.
1.4
Complete the introduction.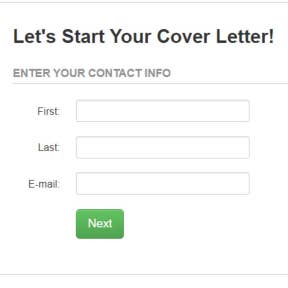 Fill in the job position you are aiming for and the name of the company you want to work for in the brackets provided. Click on "Save & Continue."
1.5
Build and complete the body of the letter.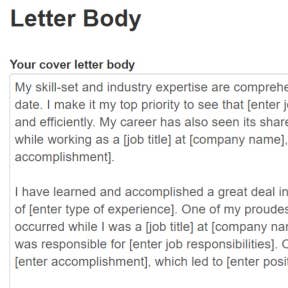 To build the body of the cover letter you must select those you want to include from the pre-written paragraphs provided.
Select from the range of letter body examples on the right of the screen.
General offers a collection of the typical information one would usually include in a job seeker's cover letter.
Student provides a selection of pre-written paragraphs that lead with studies and education.
Career Change is best for those job seekers who are moving into a new area entirely.
Returning to Work will give you options that revolve around having been away from work for some time.
Then, pick paragraphs from within the letter body category you've chosen and click on "Add" to include them.
Click on "Save & Continue."
1.6
Explain the next steps to be taken.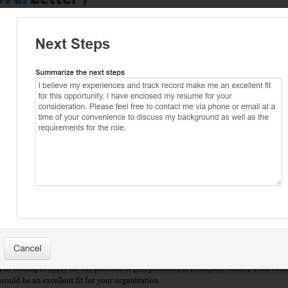 The paragraph provided might be perfect as it is, or you can edit it. When you're done, click on "Save & Continue."
1.7
Finish the signature.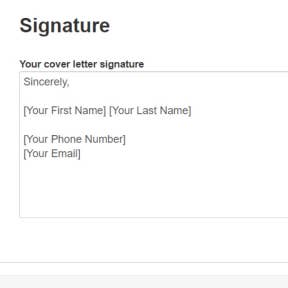 Fill in your first and last names, phone number, and email address in the brackets provided.
Click on "Save & Continue."
You are given the option to fill in the recipient's details if you'd like.
Click on "Save & Continue."
1.8
Preview the cover letter.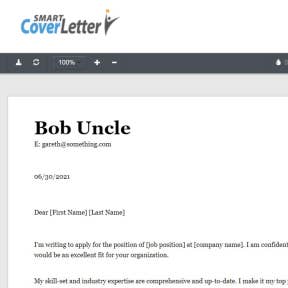 Read the cover letter and make sure there are no mistakes.
1.9
Pick a design for the letter.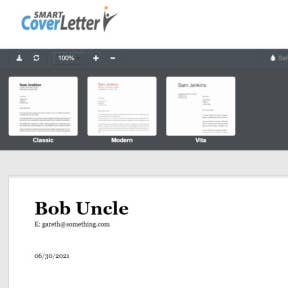 Click on "Select Design" next to the green "Print Cover Letter" button.
Decide which of the three design templates is best for your letter.
Select "Print Cover Letter" or "Export Cover Letter."
Create an account by providing your email address and setting up a password.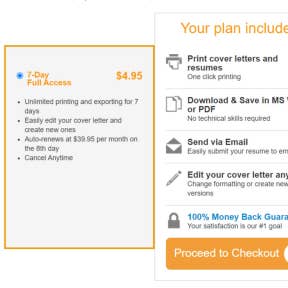 You can stay on the pre-selected 7-day trial, or choose to upgrade to the 6 Month Full Access plan.
Click on "Proceed to Checkout."
Enter your payment information.
Click on "Complete Order."
You will now be able to print or export your cover letter.
SmartCoverLetter vs. Zety:
Zety has a powerful online cover letter builder, resume builder, CV builder, and writing guide. It is more affordable and offers more customization options and templates than SmartCoverLetter. SmartCoverLetter offers more download options. Trustpilot reviews from Zety users in Australia are largely positive.
SmartCoverLetter vs. Resume Genius:
While SmartCoverLetter is a basic cover letter builder, Resume Genius offers both a cover letter generator, resume builder, cover letter examples, over 90 templates, and professional writing services. It is also more affordable than SmartCoverLetter and has a positive reputation among Trustpilot reviewers from Australia.
SmartCoverLetter vs. LiveCareer:
LiveCareer offers more templates, cover letter writing services, and over 1,000 examples. It is easy to use and more affordable than SmartCoverLetter. SmartCoverLetter is more customizable, whereas LiveCareer's cover letter generator asks for fewer inputs from the user.
Key Information
| | |
| --- | --- |
| Legal Name | King Street Labs, LLC |
| Founder | |
| Founding Date | Jan 01, 2012 |
| Address | 2370 Market St., Ste. 103, 443 San Francisco, California 94114 USA |
| Email | |
| Telephone | |
| Website | |
FAQs:
What is SmartCoverLetter?
SmartCoverLetter is a basic online cover letter builder that job seekers can use to create a professional cover letter in just a few minutes.
What does it cost to create a cover letter with SmartCoverLetter?
It is free to create and save a cover letter with SmartCoverLetter. However, if you want to email, print, or download your cover letter, you will have to sign up for the 7-day trial at a cost of US$4.95.
Does SmartCoverLetter have a free trial?
Yes, they offer a free 7-day trial. Take note that if you do not cancel the trial, your subscription will auto-renew at a monthly cost of US$39.95.
Does SmartCoverLetter include a resume builder?
No, SmartCoverLetter only offers an online cover letter generator.
How many templates does SmartCoverLetter offer?
You can choose from three design templates when building your cover letter.
What are some alternatives to SmartCoverLetter?