Pricing:
| Plan Name | Monthly Pricing | Annual Pricing |
| --- | --- | --- |
| Basic | $0.00 | $0.00 |
| Professional | $199.00 | $2,149.20 /yr. |
| Enterprise Plus | $399.00 | $4,309.20 /yr. |
Review:
ActiveHire is an affordable and easy to use job board that caters to businesses both small and large. With ActiveHire, employers can advertise their job postings on over 115,000 sources and recruit qualified candidates from different resources. For job seekers, ActiveHire provides a comprehensive platform that allows you to showcase your resume and talent.
Highlights:
ActiveHire offers both free and paid plans.
In addition to ActiveHire's job board, job ads can be posted to multiple sites and sources, including popular social media channels like Facebook and LinkedIn.
ActiveHire's features include applicant screening.
ActiveHire uses a system called RecruitAssist, which instantly matches job ads with five million active and passive candidates in its database.
With ActiveHire's paid plans, employers have access to the resume database and unlimited resume screening.
Shortcomings:
The free plan is limited to one user and does not include resume database access.
ActiveHire's website is outdated.
Reputation:
There are no user reviews of ActiveHire available online.
How to Post a Job on ActiveHire: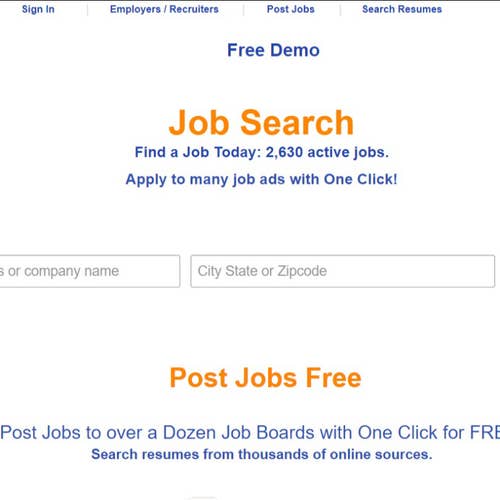 Four easy steps for posting a job on ActiveHire.
1.
Posting a Job on ActiveHire.
1.1
Sign in to your account.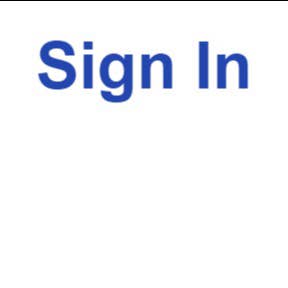 Click "Sign In" at the top of the Activehire.com home page.
1.2
Select "Click Here To Register Now."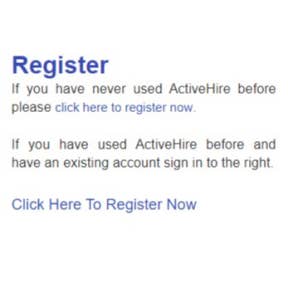 This will take you to the page for registering your account details. It is a necessary step before publishing a job post.
1.3
Register for an account and sign in.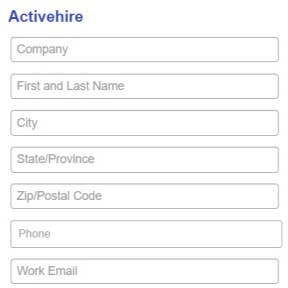 Fill in details such as your company name, location, postal code, and specify whether you're an employer looking for candidates or a recruiting agency. Click "Create Account" when you're done.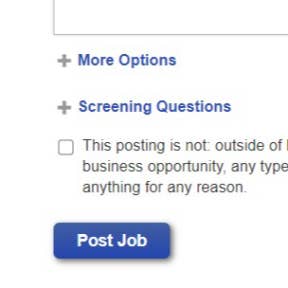 Once you've signed in, you're ready to start posting jobs. Click on "Post Jobs" on the page header and fill in the details of your job post.
ActiveHire vs. Indeed:
While both Indeed and ActiveHire offer free plans, Indeed is the only option that's 100% free. ActiveHire, on the other hand, offers both free and paid plans, with most of its robust features only accessible through the paid options. However, unlike Indeed, ActiveHire's paid plans include unlimited resume screening.
ActiveHire vs. Ladders:
ActiveHire and Ladders share many similarities. Both job boards offer free and paid plans, and both of the competitors' paid plans start at $199.00. However, while ActiveHire's plans are capped at $399.00, Ladders' most expensive payment option reaches as high as $597.00 for unlimited postings.
ActiveHire vs. PostJobFree:
ActiveHire and PostJobFree both offer a standard free plan and paid options. Compared to ActiveHire, PostJobFree stands out as the more affordable solution, with it's paid plan starting at $29.00. In addition, PostJobFree's standard plan offers unlimited postings, while ActiveHire users will have to pay $199.00 for the unlimited option.
Key Information
| | |
| --- | --- |
| Legal Name | ActiveHire, Inc. |
| Founder | Frank Jackson |
| Founding Date | Jan 01, 1999 |
| Address | 7610 Highway 71 West Suite E., Austin, TX 78735 |
| Email | |
| Telephone | |
| Website | |
FAQs:
How much does it cost to post a job on ActiveHire?
ActiveHire has a basic plan that is free and two paid plans that range from $199.00 to $399.00.
How can I edit an ActiveHire job posting?
Sign in to your ActiveHire account and go to the "My Jobs" page. Here you can see all of your ActiveHire job postings. Click on the title of the job in order to edit it.
Are there any restrictions to posting jobs on ActiveHire?
Yes, ActiveHire only permits job posts that are based in North America.
How can I delete an ActiveHire job posting?
Sign in to your employers account.
Select the box beside the posting you want to delete.
Select "Deactivate Job" in the drop-down menu.
Press "Go."
Does ActiveHire promote my job posts on other platforms?
Yes, if you have a paid plan, ActiveHire sends the job to their partner sites.
How do I create an ActiveHire account?
Go to Activehire.com and click "Sign In," then select "Click Here to Register Now."
What are some ActiveHire alternatives?